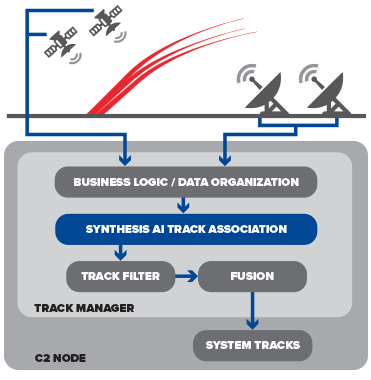 Synthesis™ is a sensor-agnostic situational awareness solution for high-confidence, real-time track association.
Accurate, real-time situational awareness is a serious problem in dense, multi-target environments. Data association from diverse sensors phenomenology is needed to enhance the Common Operating Picture. Traditional algorithms lack the ability to simultaneously address the challenges of track association ranging from the number of samples and hypotheses, to the ability to perform accurately in the presence of bias and noisy data. Current solutions are also limited by the inability to incorporate non-kinematic features. Synthesis is a sensor-agnostic deep reinforcement learning AI solution that addresses these issues with speed and accuracy for real-time association of sensor measurements to tracks.
Technical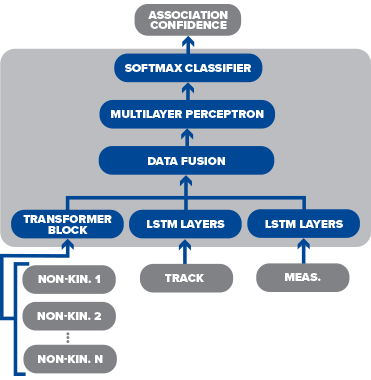 Synthesis exploits deep reinforcement learning (DRL) algorithms, including normalization of incoming measurements and extraction of short track and measurement histories. Synthesis supplements kinematic features with additional sensor features or intelligence and correlates relative motion between sensors and threat. It also provides track association confidence values to ensure tracks and measurements are the same truth object. Synthesis uses multiple sensor measurements and source/system tracks to perform data association on all combinations of tracks to measurements. Associations are returned based on confidence threshold, with results sent downstream for processing.
AI Data Association: Long-Short-Term-Memory layers perform temporal feature extraction, and transformer block extracts features from non-kinematic inputs. Abstract features are fused followed by additional feature extraction and correlation with multilayer perceptron layers. Softmax classification returns association confidence for the given inputs.