Delivering high rewards in high risk environments.
Arcarithm is in the business of developing innovative solutions to solve the hardest problems. Arcarithm was built offering high rewards in high risk environments. Strengthened over time, our command media ensures delivery of high rewards to the customer. We compete on the same level as multinational corporations in delivering Artificial Intelligence-based solutions, command and control solutions and technical services to our customers. Our level of knowledge coupled with our agile development processes and our quality management system provide our customers with a level of transparency into our solutions that is truly rare. Our commitment to quality and close working relationships with our customers allow us to produce quality solutions and services quickly, effectively, and with the highest levels of reliability and accessibility. We offer unparalleled capabilities in data development for AI solutions, subject matter expertise in command and control solutions and a superior advanced capability to identify and solve problems much faster than competitive approaches. We are quick to adopt new tools and techniques, with the ability to create innovative solutions where existing methods fall short. Arcarithm delivers a unique approach to the systems engineering process, resulting in greater mission success with higher quality solutions at a lower risk.
Capability Statement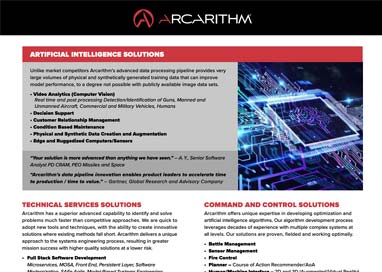 Download PDF
To be the premier provider of innovative solutions for our customers.
Arcarithm is a HUBZone certified, high tech company providing innovative products, solutions and services to Government and commercial customers in order to give back to the community.
Quality is intrinsic to all we do whether it is for internal or external customers. Our commitment to quality is absolute.