Acquire™ is a flexible, extensible, comprehensive Command and Control (C2) Course of Action (CoA) analysis and dynamic planning tool that facilitates military command success.
By understanding resource limitations and the actions required to overcome the limitations, the military commander can achieve mastery in defense and other domains. Rapid planning and course of action recommendations enable immediate improvement in defensive postures and dynamic adaptation to address rapidly changing real world events.
Technical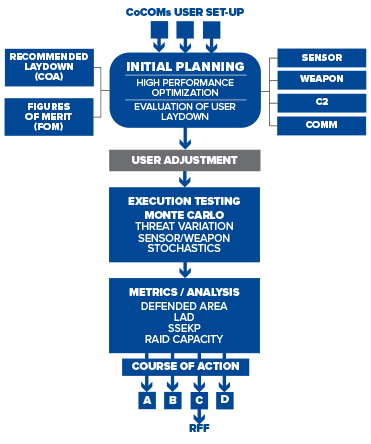 Acquire is based on a Service Oriented Architecture (SOA) that allows users to automatically specify complex threat scenarios, Blue/Coalition force capabilities, degradation of resources, different shot doctrines, varying Battle Management (BM) techniques and tuned communications performance.
CoAs are recommended based on Figures of Merit (FOMs), detailed metrics comparisons, defended area analyses, visual gap analysis and Monte Carlo simulation analysis. Acquire is composed of three components: Planning and Optimization, Execution, and Analysis. In Planning and Optimization, users develop Red and Blue/Coalition designs and scenarios, evaluate the design, and optimize the allowing command to determine best battle management practices to defend against complex raid threats. Metrics generated include raid performance, defended area, coverage gaps and more.
Acquire is a rapid, dynamic planner and CoA recommender that optimizes available resources for defense against complex threats and recommends cost effective improvements. Benefits include:
Fast and accurate – optimizes sensors and weapons in minutes.
Automated metric evaluation, defended area and launch area denied analyses with no lengthy simulation runs.
Faster-than-real-time simulation reduces run time and enables rapid Monte Carlo studies.
Web-based GUI (laptop, smart phone, table, etc.) provides user the ability to assess metrics in a distributed fashion.
Scalable SOA enables expansion to include multiple missions (SHORAD, IAMD, space, intel, etc.)