Modular, flexible, scalable AI agent integration architecture makes managing large amounts of battle data easier.
Information overload is a serious problem for the warfighter during battle execution, where large amounts of diverse data must be processed quickly and efficiently. Operators are faced with high pressures and cognitive loads — in short, tactical military organizations are drowning in waves of data, promoting increased error and indecision. Exploiting all of the potentially useful available data is impossible with existing systems of large monolithic code bases. Developed for the US Army, Hydra™ is a flexible AI agent-oriented architecture that supports C2 operators by processing multiple sources of data quickly and accurately to reduce stress and improve warfighter performance.
Technical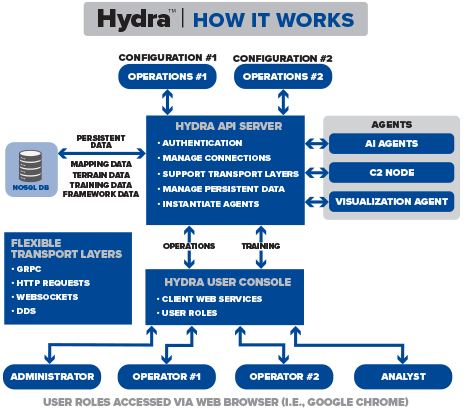 The Hydra AI architecture is modular, flexible, and massively scalable, utilizing AI-based agents to ingest large amounts of data, reason on the data and provide clear and concise information to the warfighter for better decision making.
Hardware Architecture: Incorporates cloud-based computing for optimal AI application performance, with modularity that supports horizontal and vertical scalability. This makes all sensor and intel data available to all agents, with scalability that accommodates all computational resources.
Software Architecture: Modular and flexible to work with existing software systems, it offers user scalability to support multiple operators. AI agent scalability provides additional resources to the warfighter, while 'Plug and Play' design increases speed to deployment. Seamless integration with C2 system saves time and money.
Improving performance means saving lives.
Hydra uses all available data to improve critical decisions, which improves performance and save lives. It addresses the critical gaps in current solutions which result in mismatches between inputs (such as full motion video, global positioning systems and network services) and outputs (intelligence estimates, mission orders, target lists, etc.). The platform operates on diverse hardware, includes built-in security, and provides a reliable, integrated method to:
Ingest — massive amounts of data.
Autonomously Analyze — instantly analyze data based on mission objectives.
Recommend — automatically notify C2 or operators via existing interfaces with course of action recommendations.